Is SIMPL3D the Instagram of 3D Design?
From Shapeways EDU to our Tutorials, partnerships to Tutorial Tuesdays, we're always looking for ways to make 3D design easier. Now, we're excited to announce that we've paired up with Dutch startup SIMPL3D, a new mobile 3D design app that prints to Shapeways. Currently available to iPhone and iPad users, the SIMPL3D app is a platform that seeks to fill the gap between professional desktop 3D design apps and easy-to-use mobile apps designed to power your creativity. You can download it for free.
Just as Instagram boils photo editing down to a few steps, SIMPL3D makes creating 3D designs extremely easy, with the caveat that, as can be expected, you lose much of the functionality of a more complex piece of design software (and you're limited by your own manual dexterity).
SIMPL3D relies on a mysterious "Superformula," an algorithm that simplifies the design process, so creating new models is unusually easy. If you don't want to start from scratch, there's a library of free user-generated designs that you can customize. As you create a model, you can choose whether to save the model privately, or choose "And add to the SIMPL3D cloud," which places your design in the free library. Currently, jewelry and home décor dominate this area, but I know that our community can come up with some incredible designs to add to the collection.
Once you're ready to print your design, you can use the Shapeways button to buy your model from the SIMPL3D Shapeways shop. When your model enters the SIMPL3D shop, it's only offered for sale to you, and is set to "Private." You still own all rights to your work if you use the Shapeways button, though you'll only be able to print it through SIMPL3D's shop. You can also download the STL file for 1 coin, which costs $0.99.
Ready to try it out? Below, we'll take you through how to design a simple vase using the tool. SIMPL3D works best on iPad and larger iPhones.
Design your own vase
After you've run through SIMPL3D's Tutorials, use the steps below to design a vase using the basic features of the app.
(1) Draw and revolve
When in 'design mode' users can move, rotate, select/show layers and scale with ease. These functionalities can be found at the left side menu.
Tap the pencil icon on the upper right side. A split screen appears in which users can start designing, using the 'revolve function'. Within this grid, users can combine multiple points, creating a simple shape which will be automatically rotated around a center-axis. In this example, these few clicks will instantly result in your basic 3D vase design.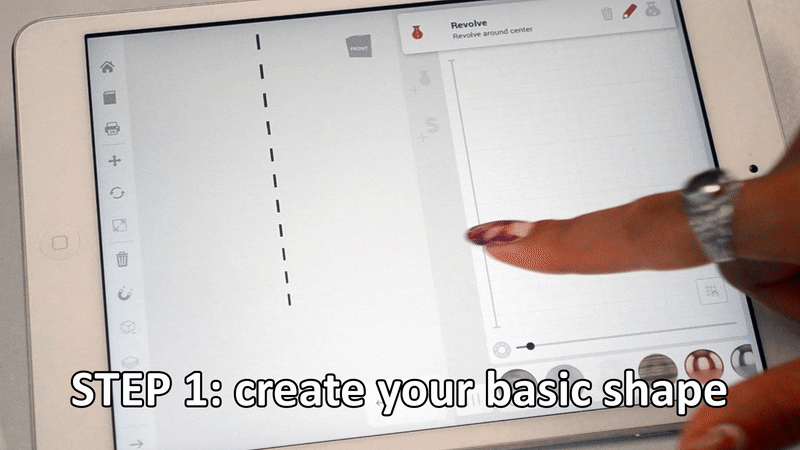 (2) Choose a supershape from the Superformula Library
After designing your basic vase shape, you can choose between different "supershapes" from the Superformula Library to give your vase a unique appearance.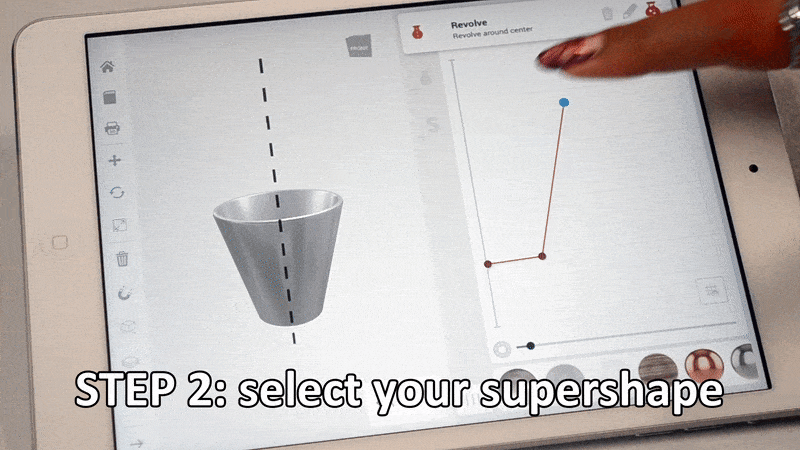 (3) Save and print on Shapeways
Save your design and send it directly to Shapeways. There you can fine-tune the design, size, and materials.